Built in 1980, the scars and repairs from 38 years of use were scattered all over Trini's deck.  Old hardware, like snap buttons and common-sense fasteners were broken and rusty.  When we washed the decks, a white milky water would float around the boat.
Trini needed new paint.
We asked a couple of freelance boat painters/maintenance professionals that could do the work on our dock, they quoted us around $5,000.  Cheap compared to local boat yards but still too much for our budget.
After months of putting off this project and debating which paint to use, we started to hear good things about Kiwi Grip.   Its a popular nonskid paint with cruisers and a few boat owners  on our dock had used it.   We heard it was easy to apply and they liked how their decks turned out.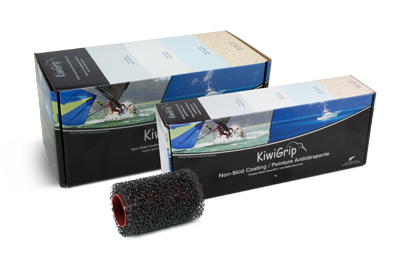 Now that we decided on the paint, we had no more excuses.
The can of paint comes with a stippled roller that creates the texture on the non-skid.  When you open the can you will immediately notice the consistency is like pudding.
To paint we gathered the following items
4″ roller
Not shown  but we used a 9″ roller and put two of the small rollers on it for large areas
tape – tape around non-skid
exacto knife – trim tape
wire brush – rough up surface
trowel –  spread paint
cardboard box –  for the pealed off tape
We used a 2.5 gallon bucket to mix the tint into the paint.  The white was too white, this is why we decided to have it tinted.
Here's the gist of what we did.
Wash surface area.
Tape off area and hardware, hand rails, etc.
Rough up surface with wire brush (avoid tape).
Wipe area down with acetone.
Scoop paint out with cup & trowel over surface.
Follow up with roller to add texture.
Take off tape within minutes after rolling the texture.
You can find a step-by-step video from PYI Inc and additional painting tips.
Applying the paint was easy but we had to work fast in the warm weather.  The captain would apply the paint and roll on the texture.  I would follow behind and pull the tape.
One tip, don't leave the tape on too long.  The paint can quickly dry to the tape and you can end up tearing off the paint with the tape.  You end up leaving a jagged edge instead of a smooth line.
We worked on this project over many weekends, painting sections at a time starting at the stern and working our way forward.  The most time consuming task on the project was taping.
Now we have a skid free deck.
Happy Sailing!
From the painting Boat Wife.